For 10 years, ECYEH Awareness Week has been honoring and bringing awareness to the importance of the McKinney-Vento Homeless Assistance Act and the education needed to provide stability and consistency to students experiencing homelessness across Pennsylvania.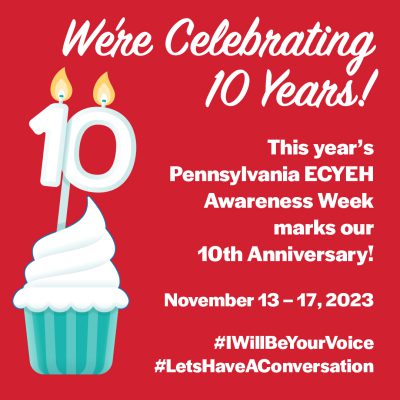 Programs throughout Pennsylvania will be hosting celebrations for children and youth experiencing homelessness and their families. We want our communities and leaders to experience these celebrations so they can understand the impact you make and continued resources needed.
Let's celebrate together!
Build a community – Share your celebrations with us!
If you are posting information about your celebrations on social media, please tag our campaign accounts:
Please use our hashtags:
#IWillBeYourVoice
#FindingYourWayinPA
#LetsHaveAConversation
#RedShirtDayPA
#Homelessness
Please use your bitly link to send people to this page: https://bit.ly/ECYEH-Week.
Attend events at the state Capitol, Wednesday, November 15
Informational Hearing with Rep. Donna Bullock and House Children and Youth Committee
9:00 – 10:00 AM | Majority Conference Room, State Capitol
Join Rep. Donna Bullock in a session with the Children and Youth Committee highlighting:
The critical needs of mental health and transportation support for academic stability and success for students experiencing homelessness.
What the data tells us about students experiencing homelessness across the state.
McKinney-Vento's vital role in protecting the educational rights of youth experiencing homelessness.
Legislative visits
10:00 AM
Legislative rally to end youth homelessness with PA ECYEH Awareness and the National Network 4 Youth
12:00 PM | Capitol Rotunda
The press event will include:
Introductions of four new bills impacting youth.
ECYEH Awareness Resolution reading.
Lunch
1:00 PM
You must register to attend lunch.
Participate in Red Shirt Day, Friday, Nov. 17
On Friday, Nov. 17, turn your school and community programs red to raise awareness for education for children and youth experiencing homelessness!
Take photos, selfies, videos, and share them on Facebook (tag @ECYEHPA) and Twitter (tag @PA_ECYEH and @Center_Schools) where we will also turn social media red!
Host a toiletries drive.
Watch or host an #IWillBeYourVoice story hour.
Create your own photobooth and take pictures #IWillBeYourVoice.
Share facts about students experiencing homelessness on morning announcements each day (see some our social media posts for announcement fact ideas).
"Stuff the bus" with hygiene materials, food, clothing, blankets, etc.
Make Birthday cake kits/ bags cards
Invite students to join in the celebration
Student voices and stories are key to raising awareness about the importance of support for students experiencing homelessness. Please use the language below to email and share with students.
Download Let's Celebrate PDF flyer to post in your school or program
Sample email content
Subject: Share your #IWillBeYourVoice story
Did you know Pennsylvania Education for Children and Youth Experiencing Homelessness (ECYEH) Awareness Week is Nov. 13-17, 2023? Who likes to raise their voice? Are you interested in raising awareness for those your age?
Join us by raising your voice and learning more about ECYEH Awareness Week. Youth your age are experiencing homelessness and you may not even know. This is your chance to cultivate awareness and support for those students experiencing homelessness within your school and community.
You can participate by joining us for Red Shirt Day on Friday, Nov. 17!
On Friday, Nov. 17, turn your school and community programs red to raise awareness for education for children and youth experiencing homelessness!
Use and share our digital content
Download #IWillBeYourVoice digital background to use in your virtual meetings.
Download social media cover photos:
Download the images below to use in your posts and emails. To download, please click on the link and right-click "save image as" to save the image to your device.